Chronic Wasting Disease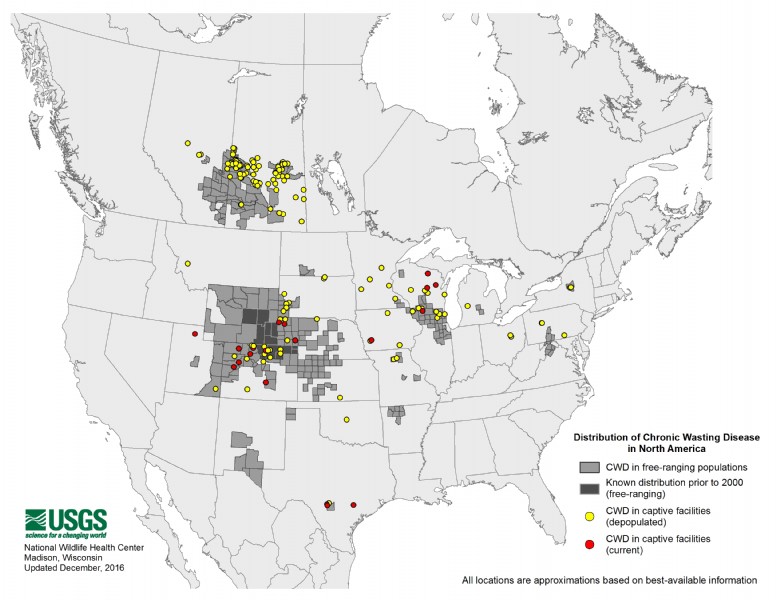 Chronic wasting disease (CWD) is a disease of the nervous system in deer and elk that results in distinctive brain lesions. It continues to be a major issue for wildlife scientists throughout the Nation, and a key focus for research at the USGS National Wildlife Health Center (NWHC).
Research is concentrated on:
Understanding how the disease is transmitted among elk and deer, understanding the patterns of infection, and determining how infection rates differ according to age and sex of the animal.

Searching for indications of genetic resistance to CWD, and developing tools for understanding CWD epidemics.

Studying the role that infected deer carcasses play in CWD transmission and how feeding and baiting may affect transmission patterns.

Exploring the susceptibility of small mammals and their potential role in the transmission of CWD.
Biologist know that deer with CWD have massive neurological damage caused by small, sponge like holes that develop in the brain. It is spread deer to deer through saliva, feces and urine.
Chronic wasting disease can only be officially diagnosed with a biopsy, but here are some signs that a deer may have CWD:
Weight loss

Abnormal behaviors, such as stumbling

Excessive drooling

Increase fluid input and output

Loss of fear

Often, the coat is mangled
---
What is Chronic Wasting Disease?
CWD Containment and Surveillance Zone Requirements
Texas Animal Health Commission -website